AFFORDABLE WEBSITE HOSTING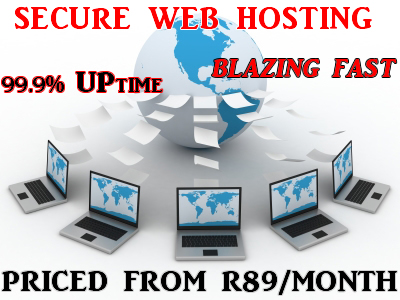 Your website occupies space on a web server just like how you have files stored on your very own PC. Choose from our very reliable and affordable website hosting packages that guarantee a 99.99% up time Our servers are comprised of state of the art equipment running the latest stable and secure software versions of Linux that ensure that your website is safe at all times with daily backups for the added peace of mind. If you are are experiencing constant site connectivity problems then it is time to review your webhost.
Apart from our awesome standard features on offer, we only list items here that is most relevant. There are many other features that are at your disposal but unlike so many competitors out there that tell you loads upon loads of stuff to glorify their offering that they themselves don't even understand, we cut through all the technical jargon so that you will understand in simple terms what we offer. The difference in the pricing model is purely the amount of space that is allocated which leads to more mail addresses and bigger bandwidth transfer.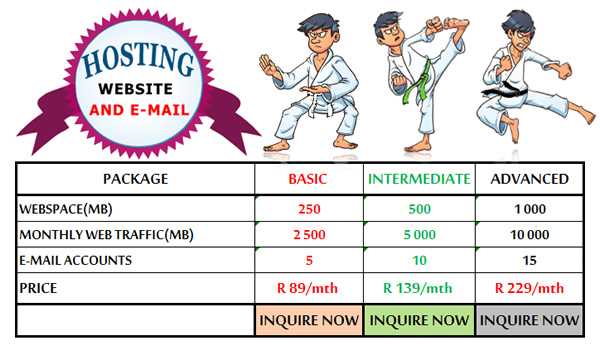 EASY EXPLANATIONS:
Hover your mouse over the blocks to see....
Webspace
This is the amount of space in Megabytes on our web server that we allocate you for your website and emails.We configure this the best way possible so that there is a balance between your mails and your website so that you do not exceed your space. We monitor your site daily to ensure this does not happen.
Web Traffic
This is the amount of megabytes of data that we allow between your web space on our server to yourself. When you connect to your website location, whatever is displayed on your screen is consuming data as it is being downloaded to your browser for viewing. This will include website updates as well as email facilities.
E-mail accounts
This is the amount of mail accounts that we allocate.We use POP3 for email retrieval. What this means is that once you have downloaded your mail to your laptop or computer, then it will be removed from our servers after 5 days so that we can free up space for your later mails. Mails to be downloaded onto multiple pcs.
Domain Name
Every year your domain name eg. www.yourwebsite.co.za needs to be paid for so that your website can still be active. This renewal ensures that your domain name cannot be purchased by anybody else. This fee is paid to a domain registrar. We renew the domain annually on your behalf to ensure continuity.