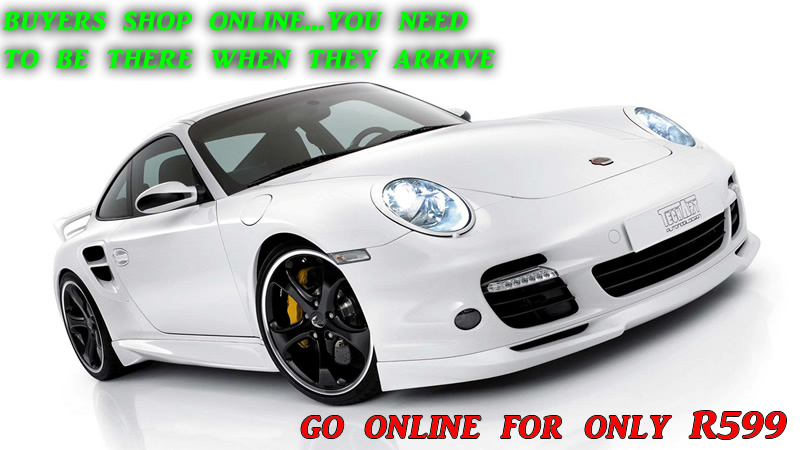 Everyone wants to drive a nice car and most certainly everyone wants to buy a car from a reputable dealer. Having the correct auto website design will lead to a higher conversion rate. If you have a real crappy looking website, then buyers out there are going to think that you sell crappy cars. If you don't have a website at all, then you are losing out to the folks out there that are taking advantage of the power of the internet. The time has come to take your showroom online and get ahead of the rest.
GEO TARGETING OF AN AUTO DEALER WEBSITE: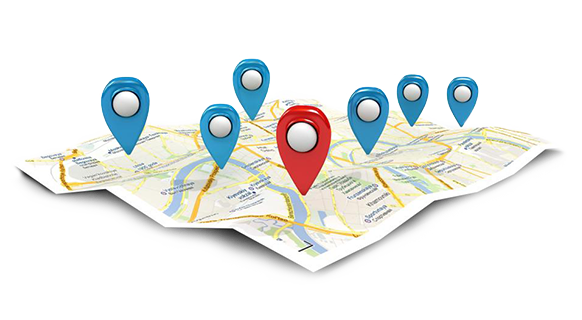 When it comes to the automobile, sales by region actually say that buyers of motor cars are geo-specific. This actually means that someone that stays in Durban will most likely buy his car in Durban. When someone searches on the internet for a Mazda 3 sedan, they will use the search terms "mazda 3 sedan for sale in Durban" for arguments sake. Their search term might differ by the keywords that I am using but the key identifying factor is that they will insert the location of "Durban".
PROFESSIONALLY CREATED:
The correct auto dealer website design will have half your sale in the bag already. A professionally designed website already has won the battle for you in terms of reputation as people form a perception of your company based on appearance. Buyers will already relate to your as someone they can do business with. At Cyberfox, we understand the way a buyer or a seller would think as we put ourselves in the shoes of our customers. Would you buy a car from someone that has grease all over their hands and with dirty overalls to match? Your customer thinks the same way.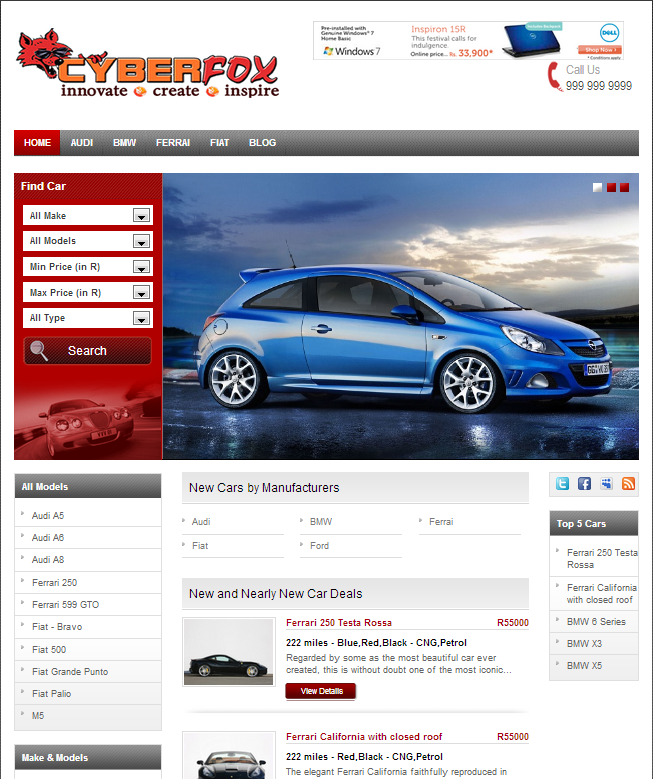 We offer a professional looking website that is bound to make your customers smile and your competitors green with envy. Although it is template based which means items are laid on in a predefined manner, we enhance the design with a colour scheme and corporate identity that matches your organisation. The website is a full content management system which actually means that you can change your own content as and when you please. Sell new and used cars that is perfectly organised in a structured manner so that your customers can find what they are looking for really quickly.
We offer our awesome standard website features that is unbeatable by far. Also included are the following features:
Your brand - Fully customised website theme showcasing your brand and corporate identity. Get recognised immediately and instill brand awareness.

No vehicle limit - We offer no automobile limit in terms of vehicle uploading. Advertise a few hundred automobiles with no additional cost.

Advanced search functionality - Presented with drop down boxes so that a user can define his search criteria and get to where he wants to go quickly. The drop downs are fully configurable by the webmaster.

Advertising space - Sell advertising space on your website to generate more revenue for your business.

Blogging platform - Have a blogging platform where you can post informative articles for a rich user interaction. Become the authority of automobiles and be the website guru where you are the trusted source of information.

Gallery - Showcase your cars with multiple images. Invoke interest in your products by offering eye catching images.

Social media integration - Get your users to interact with you on various social media platforms. Be it Facebook, Twitter, Youtube or Pinterest…we create the links to make your image more noticeable.

Subscription form - Give your customers a medium to get your latest news right into their inbox. Create a following and deliver the best content.

Finance calculator - Give buyers an indication to how much their new acquisition is going to cost.
And get all this and much more for just R599 excl. VAT / month
FREE SETUP AND TRAINING, COMPREHENSIVE SUPPORT
This offer includes our beginner hosting package with comprises of 250mb web space and 5 e-mail addresses.